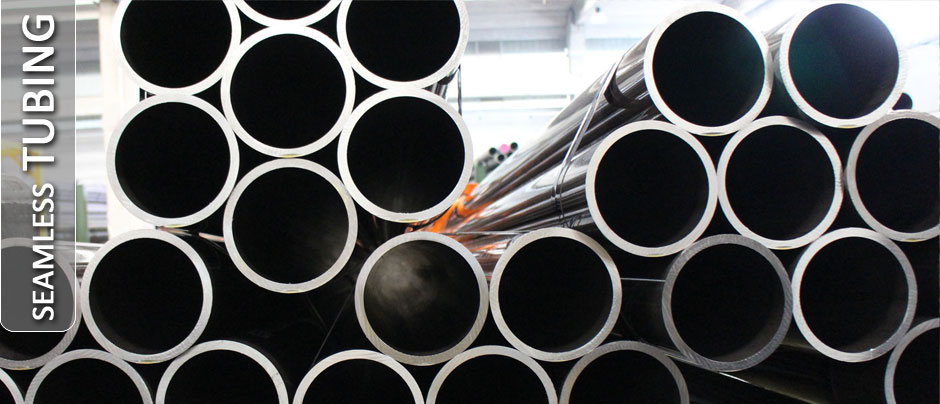 Stainless Steel Seamless Pipe / Tube | 304/316L Seamless Tubing
Stainless Steel Seamless Pipe / Tube Manufacturer, Stockholder, Suppliers and Exporter in India
Grades: Type 304 | Type 304L | Type 304H | Type 316 | Type 316L | Type 316H | Type 317L | Type 321 | Type 347 | Type 410 | Type 904L | UNS S32750 Duplex | UNS S32205 Duplex | UNS S31803 Duplex
The seamless steel pipe manufacturing process starts with a solid, round steel billet. This billet is then heated to great temperatures and stretched and pulled over a form until it takes the shape of a hollow tube. As other steel pipe suppliers will tell you, there are three great advantages to making a pipe in this way. A seamless stainless steel pipe or tube can pass through as many as 100 production steps before taking its final form and quality.
Advantages of Seamless
The main perceived advantage of seamless pipes is that they don't have a weld seam. Traditionally, the seam of welded pipes has been viewed as a weak spot, vulnerable to failure and corrosion. For many years, this fear was probably justified. However, in recent years improvements in the manufacturing process for welded steel pipes and other welded pipes have boosted the strength and performance of the weld seam to levels indistinguishable from that of the rest of the pipe.
Seamless pipes provide peace of mind. Although there should be no issues with the seams of welded pipes supplied by reputable manufacturers, seamless pipes prevent any possibility of a weak seam.
Seamless pipes have better ovality, or roundness, than welded pipes.
We stock a wide range of Stainless Steel Seamless Pipe / Tube
| PIPE TUBE TYPE | NB SIZES | SCH 5 | SCH 10 | SCH 40 | SCH 80 | SCH 160 |
| --- | --- | --- | --- | --- | --- | --- |
| Seamless Stainless Steel Tubing | 1/8" | | | | | |
| Seamless Stainless Steel Tubing | 1/4" | | | | | |
| Seamless Stainless Steel Tubing | 3/8" | | | | | |
| Seamless Stainless Steel Tubing | 1/2" | | | | | |
| Seamless Stainless Steel Tubing | 3/4" | | | | | |
| Seamless Stainless Steel Tubing | 1" | | | | | |
| Seamless Stainless Steel Tubing | 1 1/4" | | | | | |
| Seamless Stainless Pipe | 1 1/2" | | | | | |
| Seamless Stainless Steel Tubing | 2" | | | | | |
| Seamless Stainless Steel Tubing | 2 1/2" | | | | | |
| Seamless Stainless Steel Tubing | 3" | | | | | |
| Seamless Stainless Steel Tubing | 4" | | | | | |
| Seamless Stainless Steel Tubing | 5" | | | | | |
| Seamless Stainless Steel Tubing | 6" | | | | | |
Cities We Deliver To: Mumbai, Bengaluru, Chennai, New Delhi, Pimpri-Chinchwad, Houston, Dubai, Seoul, Hyderabad, Singapore, Abu Dhabi, Pune, Kolkata, Gurgaon, Navi Mumbai, Ahmedabad, Tehran, Calgary, Noida, Riyadh, Vadodara, London, Coimbatore, Jakarta, Istanbul, Bangkok, Kuwait City, Thane, Sharjah, Muscat, Edmonton, Busan, Mexico City, Doha, Jeddah, Aberdeen, Cairo, Geoje-si, Perth, Santiago, Chandigarh, Indore, Kuala Lumpur, Rio de Janeiro, Dammam, Melbourne, Madrid, Surat, Bhopal, Ulsan, Faridabad, La Victoria, Bogota, Lahore, Los Angeles, Algiers, Chiyoda, Ankara, Ho Chi Minh City, Toronto, Hong Kong, Rajkot, Brisbane, Petaling Jaya, Ernakulam, Secunderabad, Gimhae-si, Al Jubail, Port-of-Spain, Thiruvananthapuram, Milan, Atyrau, Lagos, Hanoi, Howrah, Sydney, Ahvaz, Karachi, New York, Caracas, Vung Tau, Al Khobar, Manama, Montreal, Granada, Courbevoie, Visakhapatnam, Ludhiana, Moscow, Dallas, Haryana, Colombo
Countries We Deliver To: India, United States, United Arab Emirates, Canada, Pakistan, Peru, Chile, Spain, France, United Kingdom, Indonesia, Israel, Iran, Kuwait, Mexico, Malaysia, Nigeria, Serbia, Singapore, Taiwan, Chile, Venezuela, Ecuador, Saudi Arabia, Netherlands, Brazil, Colombia, Ghana, Iran, Denmark, Poland, Australia, Afghanistan, Bahrain, Costa Rica, Egypt, Iraq, Jordan, South Korea, Kazakhstan, Sri Lanka, Lithuania, Norway, Oman, Philippines, Poland, Qatar, Russia, Vietnam, South Africa, Nigeria, Mexico, Turkey, Hungary, Algeria, Angola, Argentina, Austria, Azerbaijan, Bangladesh, Belarus, Belgium, Bhutan, Bolivia, Bulgaria, Croatia, Czech Republic, Estonia, Finland, Greece, Italy, Japan, Libya, Romania, Thailand, Trinidad & Tobago,Tunisia, Ukraine, Yemen, Hong Kong, Gabon, China, Portugal, Switzerland, New Zealand, Sweden, Slovakia, Kenya, Lebanon, Morocco, Mongolia
Europe: Germany, Netherlands, Russia Finland, Czech, Ukraine, Italy, Spain, Poland
Middle East:Iran, UAE, SA, Iraq, Qatar, Isreal, Jordan, Bahrain, Kuwait
South America:Brazil, Chile, Peru, Venezuela, Uruguay, Argentina
Africa: Egypt, South Africa, Nigeria
Central & North America:Mexico, US, Canada, Costa Rica
South East Asia and Pacific:Japan, South Korea, Singapore, Thailand, Indonesia, Australia